Delaney & Paris CD Release - Sat 3/29 - Tiger Bar (Portland)

Those foul-mouthed, angel-voiced ladies of legend, Delaney & Paris, are finally getting ready to release their debut CD! Here's what the duo has to say about their upcoming Friday, March 29th gig at Tiger Bar in Portland:


We're delivering our first full length album from our vaginae and we'd like you to come celebrate her birth, LIVE! We'll be introducing our drummer, Heather Hawkins, into our set and discounting the album as a special treat for you lucky people who jump in early!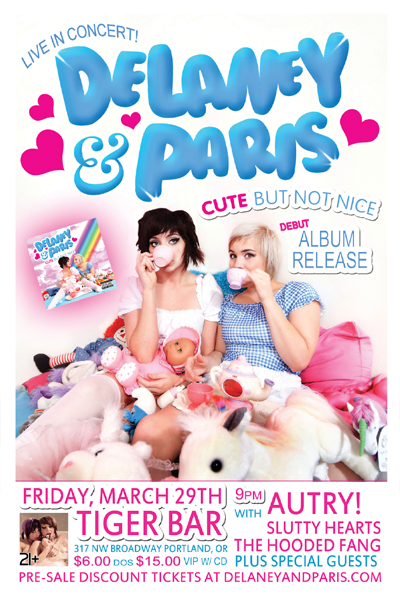 (Click for Large JPG Image)


... a live drummer?! Guest performances from Autry!, Slutty Hearts and The Hooded Fang?? Who would want to miss this show? Plus, with a full-load of kick-ass songs and mastering from 1HRx Entertainment's own Statutory Ray, DP's debut release "Cute But Not Nice" is a must-have for fans of music and comedy alike.

Get your advance tickets right here, VIP it up and get a CD with your door admission for a discount! Also, remember to pre-purchase the CD even if you don't live in the area. Have your own private DP CD release party in Yourtown, MI, or come down to the Rose City on 3/29 for a Friday that would make Rebecca Black cry happy tears!



$12.00 USD - Delaney & Paris - Cute But Not Nice CD (Free Shipping)

-1HRx Staff