Share





The reviews are in, the winners have been announced, and oh yeah... pictures and video of strippers wrestling in bacon and lard. Enjoy: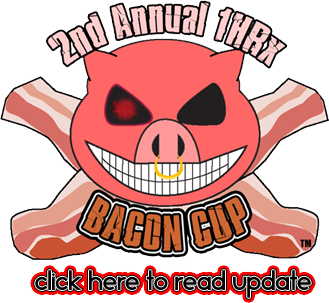 -1HRx Staff
What is Bacon Cup?
There are two things we love here in Portland, bacon and weed. Since Amsterdam has Cannabis Cup (and weed is not exactly legal in Oregon, yet), One-Hour Pharmacy (1HRx) Entertainment has put together the event to end all events, a competition honoring the salty grilled swine known to some as candy meat... we are, of course, talking about bacon!



(Click for Large JPG Image)


On Saturday, July 14th at the Ash Street Saloon (225 SW Ash in Portland, OR, click for map), master chefs, cooks and wizards will submit their best bacon-induced creations for the judging audience (as well as a celebrity panel), who will consume, rate and review the creations. Some will enter, some will attend, many will lose and everyone will win. In the end, we do it all for the love of bacon, music, strippers and all things Portland.

Speaking of whiny vegans, this event is not designed to alienate anyone. In fact, Muslims, Jews, vegans and diabetics alike can rejoice, as turkey bacon, fake bacon, bacon-flavored non-bacon and all varieties of pseudo-food will be available. Of course, Bacon Cup will focus primarily on the dripping, pain-filled protein made from the blood and sweat of adorable piglets, but we're not gonna hate on the tofu folks either.

As the doors open, Ash Street Saloon will fill with bacon lovers, chefs and musical performers. This 21-and-over crowd will then enjoy a brief introduction to the event from host Statutory Ray before the festivities begin. Bands will play short sets, during which time individual contestants will showcase their bacon creations one-by-one. At the end of the event, votes will be tallied while stripp... er, professional wrestlers with female anatomy and rip-able clothing will duke it out in a kiddie pool full of bacon. Wombstretcha the Magnificent will read his "Brief History of Bacon (Part 2)."

At the end of the night's performances, the winners are announced and anyone in possession of a V.I.P. bracelet will be invited to join in the bottomless bacon deep-fried buffet bonanza, while everyone in attendance enjoys live music from the winner of our Warped Tour Can Suck It contest (click here or read on for more info on that). Everyone will go home happy, and the dawn of a new day will be soaked in greasy pig sweat!

Music, Strippers, Bacon & More!
Bacon Cup 2012 is less than 24 hours away!! So far, we here at 1HRx Entertainment have been keeping some secrets regarding the lineup and entries, but secrets are meant to be shared. Here's the official talent roster, setlist, prize package and VIP awesomeness that will be going down this Saturday, July 14th at Ash Street Saloon in Portland, OR:
Official Bacon Cup Schedule of Events
There will be plenty of talent gracing the stage at Bacon Cup, but if you want to be sure to catch your favorite act, here's the final schedule of events, including a list of musical acts, as well as the businesses and cooks providing the bacon that you sample and judge...

8:00-8:10 Opening ceremonies with host Statutory Ray.
8:10-8:45 - Mr. Plow (musical guest) - Betsy's Bacon (bacon).
8:45-9:20 - Artimus Treefrog (musical guest) - EB Smokey's BBQ (bacon).
9:20-9:55 - K-Dizzy & Reign Pro (musical guest) - Sassy's (bacon).
9:55 - 10:30 - Public Drunken Sex (musical guest) - Sausage Shack (bacon).
10:30 - 11:05 - Pill Brigade (musical guest) - Slappy Cakes (bacon).
11:05 - 11:40 - DJ Castor Pollux (musical guest) - Bacon Jake (bacon).
11:40 - 11:50 - Wombstretcha's Aural History of Bacon Part 2
11:50 - 12:00 - Stripper Bacon Wrestling with Berlin and Giselle!
12:00 - 12:45 - Sparkle Nation (special guest headliner).
12:45 - Bacon Cup 2012 Winner Announced!
12:50 - Close - Dance party w/ DJ HazMatt aka Statutory Ray.

The expert bacon judging panel, comprised of local celebrities, perverts, baconphiles and antivegans, includes Knothead, Johnny Krash, Phil Haleen of Taxidermy Records, Casey & Chops from the strip clubs, and comedians Pat Perkins and Rochelle Love!
V.I.P. is now V.V.V.IP!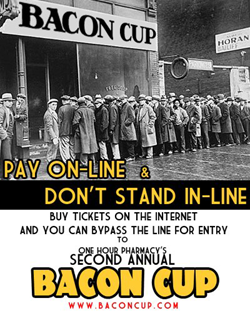 VIP ticketholders were originally told that they would get access to the late-night bacon buffet. Well, this is just not enough to make us feel satisfied, so we are not only extending the VIP buffet all night long, but we are giving VIP'ers the following perks in addition:

Secluded VIP restroom.
Private VIP bartender.
Special VIP-only samples from each entry/contestant.
Door prize of your choice (CDs, shirts, and much more).
Additional vote (this means our contestants will be hooking you up).
Immediate access to the front of the line for quick entry!

Get your will-call (as in, your name will be on the list at the door) tickets right here, and be sure to go all-out with the VIP status so your date will have sex with you at the end of the night:


| | | | |
| --- | --- | --- | --- |
| VIP Admission - $10.00 - Will Call | | General Admission - $5.00 - Will Call | |
Grand Prize...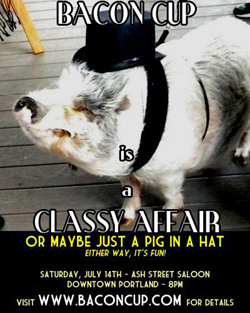 What does the winner get? Well, that's a damn good question... here's a partial answer:

10,000 glossy print flyers, 10,000 business cards and a full-size banner from 1HRx Entertainment!
Free art from Jesse Lindsay!
Bottles of vodka from Bengerminz!
Bottles of rum from Warship!
Graphic design and free logo from ReDesign!
Free professional photoshoot from Happy Robot Photography!
Free glass art and pipes from Ant Farm Glass!
Bottles of Sinful Syrup!
Free automotive consultation from Max Hill Mobile Mechanic!
Free gifts from Tokens!
Free out-call massage from Monica Hilbrandt Massage!
Tattoo gift certificate from Mr. Tattoo!
Electronic cigarette starter kit(s) from Schmoker Industries!

... plus much, much more! This prize package is worth over $1,500!!!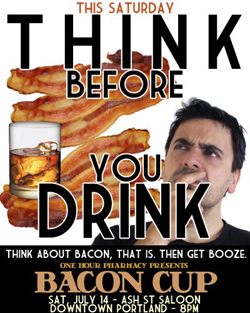 Make sure to invite your Facebook friends, buy your VIP tickets and get ready to get down to the Ash Street Saloon tonight, Saturday, July 14th!

-1HRx Staff
1HRx Entertainment on Facebook
1HRx Records on Facebook
1HRx on Twitter






If you do not hear back from us within 24 hours, panic.