Live Stand-Up w/ Dr, Foxmeat This Friday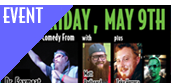 Hey Humboldt County, it's time to welcome back the one and only Dr. Foxmeat to his first headlining comedy show in a long while! This Friday, May 9th, witness the comedic wizardry behind Dr Foxmeat's Radio Show, plus local favorites Matt Redbeard and Zeke Herrera of Savage Henry Independent Times... (read more)
May. 07, 2014

Throwback! 80's/90's/Ladies Nights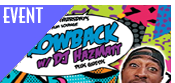 Recently-transplanted DJ HazMatt is bringing his erratic mix of hip-hop from the 1990's, electro-pop from the 1980's and everything in between, first and third Thursdays to Humboldt County's own Palm Lounge. Happening from 9:00pm until 1:00am or later, Throwback! is a 21-and-over affair, featuring drink specials for the ladies... (read more)

May. 01, 2014

St. Patty's de Mayo in Humboldt County!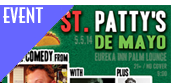 If there's one thing that Humboldt County knows how to do, it's party! Your hosts Ray McMillin and Nando Molina will be bringing another night of heavy drinking and cultural insensitivity to the Eureka Inn's Palm Lounge, combining Irish and Latino themes for the ultimate Cinco De Mayo party. This time around, we have Zeke Herrera headlining... (read more)

Apr. 29, 2014

Redwood Comedy Festival This Saturday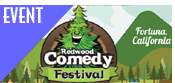 Although Savage Henry Magazine throws their annual S.H.I.T.s n' Giggles Festival in the summer, there is another day-long Humboldt-area comedy event catering to the post-4/20 spring crowd... Featuring top comedy from the Northwest and beyond, the Redwood Comedy Festival, happening Saturday, April 26th in Fortuna, CA... (read more)

Apr. 21, 2014

BigFish Vapor Lab Grand Opening Party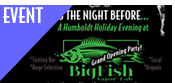 Smoking ban on the Arcata Plaza cramping your Humboldt weekends? The good folks at Bigfish Vapor Lab (between Everett's and T.J.s on the Arcata Plaza) are hosting their grand-opening party, this Saturday night, April 19th from 10:00pm until 3:00am, with live comedy, music by DJ HazMatt and more... (read more)

Apr. 18, 2014

You Can't Do That on a Stripper Pole 2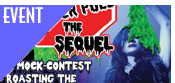 Everyone in the Portland strip club scene is familiar with the contests and pageants that go down on a regular basis, but only One-Hour Pharmacy (1HRx) can give you the raw, un-cut, over-the-top entertainment that you won't see anywhere else. Because last year's You Can't Do That on a Stripper Pole pageant was such a success... (read more)

Mar. 20, 2014

Skinny Puppy vs. The Pentagon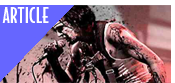 Industrial rock legends Skinny Puppy are feeling the bitter taste of unintentional irony upong learning that their gritty, hard-to-digest music is being used as a method of torture at Guantanamo Bay. Sure, the band's entire lyrical catalog is essentially a buffet of anti-government, anti-war, anti-torture and anti-imprisonment themes... (read more)
Feb. 22, 2014

Chris Garcia Live in Humboldt!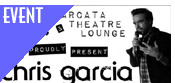 Chris Garcia is a comic on the rise from the Bay Area and Los Angeles, described by Robin Williams as "fearless, funny and straight from the heart." Recently having been featured on This American Life, Garcia's stand-up is more than fitting for the Northwest crowd, and he will be performing live with Josh Androsky, Clare O'Kane and Ray McMillin... (read more)
Feb. 17, 2014

Stevie Stone, P.D.S. Tonight in Portland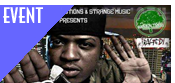 Are you out and about in Portland, OR on this beautiful evening? Looking for something awesome to do that doesn't involve donuts or hipsters? Well, our friends and yours, Public Drunken Sex, are taking over the Analog Cafe alongside Tragedy503 and many more, for the one and only Stevie Stone of Strange Music... (read more)

Feb. 16, 2014

Metal Monday at 2-Bit w/ Pill Brigade
Hey Seattle, your Monday just got much more brutal! Head on down to the 2 Bit Saloon this week for Metal Monday, and you will catch a face full of metal (and metal-inspired) acts, including industrial legends Pill Brigade with Test & Control, plus baby-eating hip-hopper Con-Crete, all for less than the price of a value meal... (read more)
Jan. 12, 2014